JVD wins the IoT Challenge Expert Award organised by Objenious
Thanks to its HygiaConnect connected hygiene solution, JVD has been awarded the Expert Prize of the IoT Challenge by Objenious.
Thanks to this prize, JVD will benefit from, among other things, the visibility of HygiaConnect products by the organiser and an ideation workshop day with an Objenious, Microsoft, BearingPoint and STMicroelectronics expert and the Bouygues SA Innovation Department.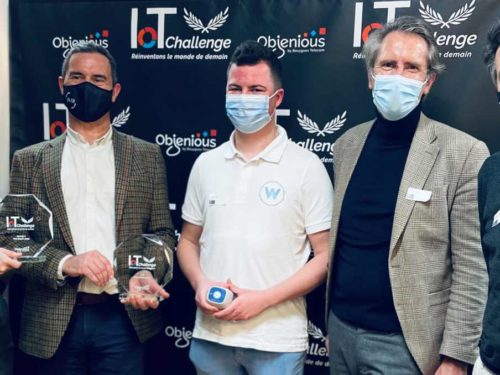 Convinced that connected objects can provide answers to the new constraints facing businesses, Objenious, a Bouygues Telecom brand, has launched the first edition of its IoT Challenge.
EXPERT AWARD  
JVD, winner of the Expert Award, won over the jury with its connected IoT Smart Cleaning solution HygiaConnect, which guarantees the comfort and hygiene of all public or professional spaces. Thanks to the installation of sensors communicating via LoRa, HygiaConnect collects and interprets data on hygiene, quality and activity within the premises:
Use of consumables (hydroalcoholic gel, soap, paper) and equipment,
Rate of filling of waste bins,
Attendance and user satisfaction,
Quality of the environment.
The solution allows real-time monitoring of hygiene equipment, but also the sending of alerts to prevent shortages of consumables and access to traceability and analysis of operating data.
For Thierry Launois, Managing Director of JVD: "Our relationship with hygiene has been considerably and permanently altered by the health crisis. The IoT and connected objects open up tremendous possibilities for guaranteeing the best level of hygiene on a daily basis and allowing cleaning managers to react in real time, even before noticing a shortage. We can no longer think that the minimum hygiene threshold is sufficient: we must reconsider and change our practices. HygiaConnect, JVD's connected hygiene solution, has a key role to play in supporting these changes."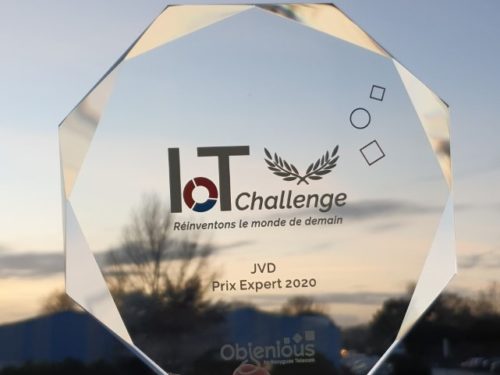 Thanks to this competition, JVD wins :
The visibility of its solution by Objenious and the sponsors of the competition,
1 day of ideation workshop on a selected issue with an expert from Objenious, Microsoft, BearingPoint and STMicroelectronics and the Bouygues SA Innovation Department,
Support during the first year by a BearingPoint IoT telecom expert for half a day per month,
The referencing of its solution at Objenious.